O'Keefe Communications' video and live event production teams seize every opportunity to think BIG. As the creative team behind the 2017 BIO International Convention, we endeavored to produce an experience as extraordinary as our client's mission.
BIO attracts the biggest names in biotech, offering key networking opportunities and insights into major trends affecting the industry. Understanding our client's objective to communicate a sense of discovery, imagination, and purpose…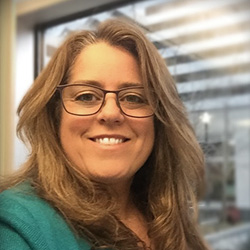 We Built a Screenscape® : twenty feet tall and 180 feet long – that's half a football field! – our curved projection surface stretched from floor to ceiling and wrapped from one end of the audience to the other.
Always thinking practically and abstractly on every scale, we used ultra-wide video and animation for the moments we wanted to "really wow the audience," and framed other visuals using "a more intimate scale," when we intended to focus attention on individual presenters or one-on-one interviews.
The BIO International Convention is the largest global event for the biotechnology industry. Positioned at the forefront of discovery and innovation, the organization's mission is to heal, fuel, and feed the world one breakthrough at a time.
Informed by these core values, we coordinated a mainstage program that unfolded organically around the massive screen.
As seasoned producers, we anticipate challenges. We "devise solutions through serious consideration of clients' needs, with unwavering commitment to quality and boundless creativity."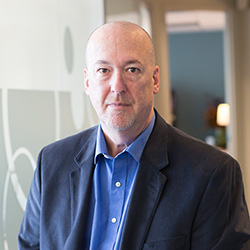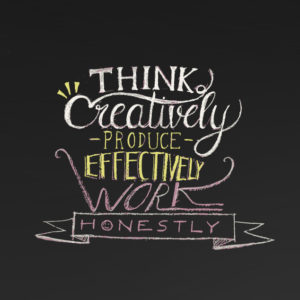 We Thought Creatively to devise a solution for staging cues: doors built into the screen allowed presenters to walk out dramatically, appearing front and center as though emerging from the story onscreen itself. The Screenscape brought our client's message to life, on larger-than-life scale, and the doors built into it truly embodied the convention's theme: One Breakthrough.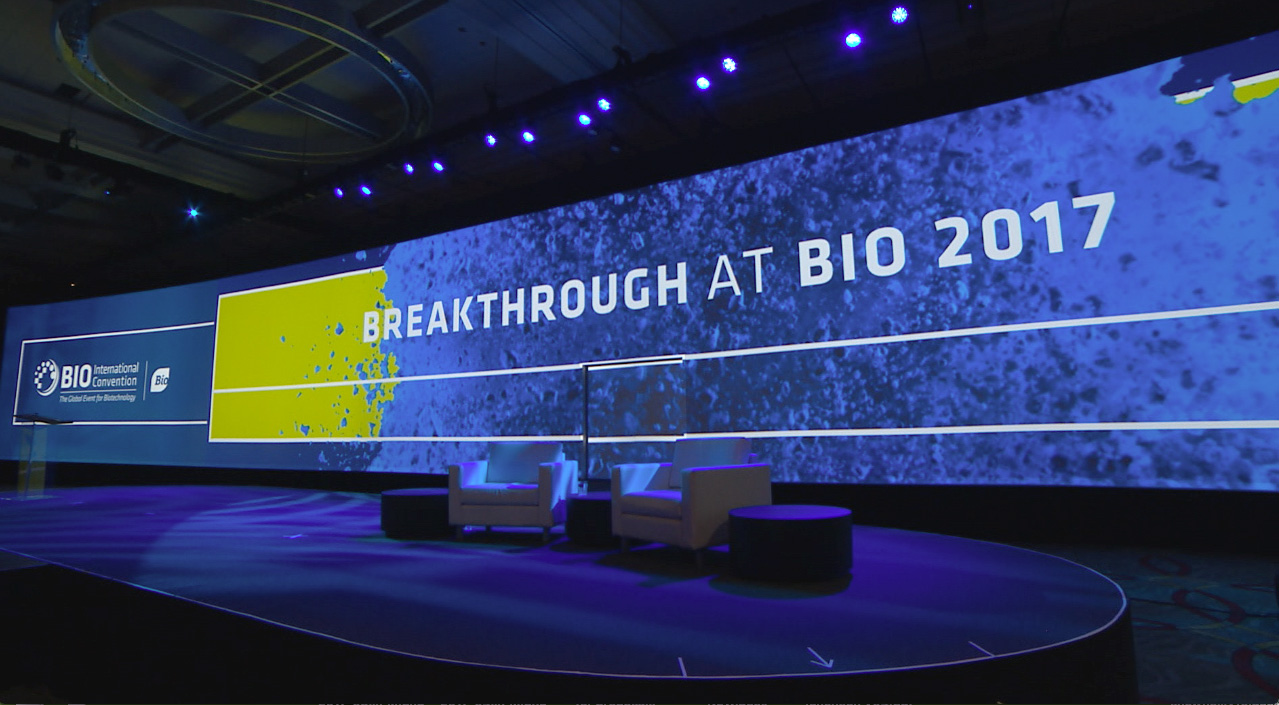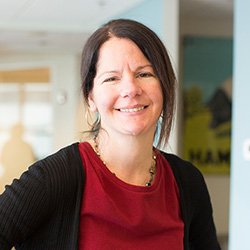 How did we further leverage this spectacular set?
We Produced Effectively Our custom graphics designed to spec reflected a coherent treatment, bringing the energy of discovery to the big screen. Setting an audacious tone for the multi-day convention, O'Keefe Communication's video production team crafted an opening video that mesmerized viewers.
The behemoth Screenscape required a specialized playback system and video codec. Instead of one video output per video element, we needed to split each into five 16:9 files.
"Though a little intimidating at first, we did some testing, completed the final exports, and all of our video elements played at the event without a hitch."
We knew we'd need a lot of visual stock and a powerful narrative.
How did we pull it off?
We Worked Honestly Supporting our client's vision, we had a big idea and saw it through with excellence to completion. Open communication and our shared commitment to quality allowed us a fruitful client partnership. Together, we produced an exceptional event featuring phenomenal video content on an astounding Screenscape.